Support
New Album – Pilgrimage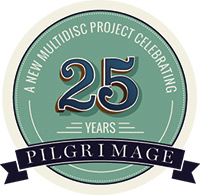 This year is the 25th anniversary of my first solo project, Comfort My People. To commemorate, I'm planning a multi-disc album set called Pilgrimage. It will include a CD of new songs, but will also include three other CDs of retrospective content – all unique and, I trust, interesting to those of you who have travelled some of this journey with me.
It will also include a modest book with with an essay by Dr. John Stackhouse, reflecting on the body of material I've been entrusted with over the last 25 years.
I hope to begin recording in late January, but first need to raise some funds for production, manufacturing and marketing. Here's what we need:
1. I'm hoping to raise $25,000 for recording. This is not the entire cost, but the remainder will be raised through available grants and cash on hand.
2. To properly market the new project I hope to raise an additional $25,000.
I know this sounds like a lot of money, but in reality, it is a rather modest amount to launch an album. We make much use of free avenues such as the internet and media reviews etc., but there are still the hard costs of design, posters, mail-outs, printing, newsletters, postage, radio and paper advertising, website development, publicist, etc.
3. Finally, it is time to upgrade our recording studio software and hardware, at a cost of approximately $15,000. It was state-of-the-art in 2002, but as you know, a decade in the digital age is a century in the previous age, and I think we've squeezed every drop of music we can out of our current gear.
So, in the next month or so, I'm hoping to raise as much of the $65,000 budget as I can. This will not only enable me to pursue the next project, but will also prepare us, equipment-wise, for recording into the next decade or so.
If you would like to be part of this 25th Anniversary Celebration (of my pilgrimage), as well as help equip me for the next leg of this ministry, you can donate online, by phone or by mail. All donations are tax receiptable. One-time gifts are gratefully received, but if you would like to continue your support into the future, pre-authorized monthly gifts are a much appreciated option as well. If you have any questions about donations, please call our office and speak to Faye at 1-800-854-3499.
Thank you so much for your prayers and your trust. It has been such a deep and rewarding pleasure to serve you all with the gifts God has given me.
To Donate, see upper right hand column.