2016 New Album Project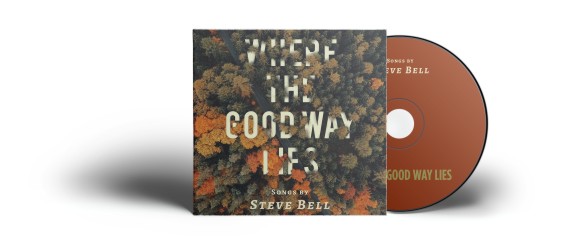 THANK YOU to everyone who contributed to make this new CD project possible! We are looking forward to the release in November 2016.
If you would still like to donate to Steve's ministry, funds are still needed for daily operations, future tours and projects.
Letter from Steve:
Dear Friends & Supporters,
Hey – Steve Bell here… news I really want to share is that I've been songwriting a fair bit and have enough songs to warrant beginning a new album in January. The working title for the project is "Where the Good Way Lies" which derives from Jeremiah 6:16:
Stand at the crossroads and look;
ask for the ancient paths,
ask where the good way lies, and walk in it,
and you will find rest for your souls.
It has been pointed out that several of the new songs have strong resurrection themes, so even though it will not be an overt Easter album, perhaps I'm still trying to figure out what love looks like… here on the ground I mean. Given the current refugee crisis and our obvious and understandable fear of opening our borders to welcome victims of hatred, it seems we need to ask ourselves if we have the courage to love, and to trust that the real vulnerabilities inherent to love are also part of the call on God's people.
I'm looking forward to this project. Not only because of the songs coming down the pike, but also because of the unique way we'll be recording.
Let me explain: My manager/producer Dave Zeglinski is a master at old-school analogue recording (as opposed to digital). I'm talking about the big 2-inch reel-to-reel tape machines my generation of musicians grew up recording on until the mid-to-late '80s. Even though we made the switch to digital a couple decades ago, Dave and I have kept all that old gear. Audiophiles argue that even though it is much less efficient, it still sounds better than digital.
Recently, Refuge 31 Films approached us saying they were interested in doing a documentary on analogue recording techniques and asked if we'd consider firing up the old beasts for our next album. Dave was thrilled. He truly was one of the greats on that format, and has been missing the delicate art of it. It turns out that one of the few remaining technicians who can get this finicky gear running again lives in Winnipeg and is also excited at the prospect.
So… we're not only going to start work on a new CD, we're going to resurrect some very fine pieces of old, state-of-the-art machinery and do it old-school. Certainly we'll press to CDs, but will press to vinyl records as well, which, of course, would be the coolest thing.
Opportunity for Partnership
We have been both privileged and blessed in the past to receive funding from a foundation called FACTOR (Foundation to Assist Canadian Talent on Record), to help with recording and marketing our projects. Unfortunately we've come to the end of that support and will now have a shortfall to fill every second year when we go into the studio to create a new work.
As with recent projects, we have to go to the community to discern if there are financial partners to see the next project through. Patronage is the only way to do this work anymore. Basically, if I can't convince the wider community of the social good of my work, I simply have to find other things to do.
Would you like to partner with me on this? A typical recording budget including manufacturing and marketing is roughly $60,000.
I've created an audio "mini concert" and explanation so you can hear demo versions and stories of three of the songs. Remember, a demo is to recording what a sketch is to finished art – so you have to listen for potential and forgive that these sound… well … kinda sketchy. Take a listen here…
Please consider prayerfully if you might partner with me on this next project which, measured against my long-standing mission statement, endeavors to "encourage Christian faith and thoughtful living through artful word and song."
Of course, all contributions through IncarNATION Ministries are tax-deductible.
Thanks so much for your love and prayers. They are much needed, deeply felt and gratefully received.
Steve

To Donate, see upper right hand column.