Support
New Album – Pilgrimage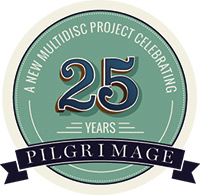 I'm writing this in a van, sitting next to my trusty manager Dave, as we travel 6 hours on Hwy 17 between Elliot Lake and Toronto. There, we'll catch a plane home to Winnipeg and spend the next few days preparing for the symphony concert on December 1st.
I've just completed three small concerts in Northern Ontario, all in small venues playing mostly to folks who have never heard me before. It's a little surreal, flipping from small, rural, unfamiliar crowds, sitting on a wooden stool by myself, to an urban concert hall, filled with long-time fans and backed up by a 66 piece orchestra. But such is my life, and I love it.
I love the intimate immediacy of a small venue and the challenge of connecting deeply with folks who are not quite sure they want to let me into their lives. And I love the majesty and grandeur of the orchestra, the formal concert hall, and the energy of a full house of people eager to celebrate a relationship built over many concerts and many album projects.
Yesterday was my birthday. And as we drove a long distance between concerts over the gorgeous, rugged Canadian Shield, I had lots of time to reflect gratefully over the last two and a half decades of ministry; all the faces, all the towns the myriad concerts, and the many splendored landscapes and cultures. I thought of the breathtaking mountains of Ethiopia and the churning chaos of Calcutta, the bubbling cacophony of Manila, and the soul-disrupting tension of Palestine and the music-laden streets of Trinidad.
I thought as well of my beloved family and friends. My many mentors and patrons who have invested in this work. I thought of the many deeply talented musicians who have invested their gifts in my songs and recordings.
Finally, I recalled the mistakes, the financial terrors, the anxieties, the separation from family, and the self-doubt that plagues and paralyzes.
It's all good. And God, the One who "leads from beside" has indeed been a constant companion.
Next year is the 25th anniversary of my first solo project, Comfort My People. To commemorate, I'm planning a multi-disc album set called Pilgrimage. It will include a CD of new songs, but will also include three other CDs of retrospective content – all unique and, I trust, interesting to those of you who have travelled some of this journey with me.
It will also include a modest book with with an essay by Dr. John Stackhouse, reflecting on the body of material I've been entrusted with over the last 25 years.
I hope to begin recording in late January, but first need to raise some funds for production, manufacturing and marketing. Here's what we need:
1. I'm hoping to raise $25,000 for recording. This is not the entire cost, but the remainder will be raised through available grants and cash on hand.
2. To properly market the new project I hope to raise an additional $25,000.
I know this sounds like a lot of money, but in reality, it is a rather modest amount to launch an album. We make much use of free avenues such as the internet and media reviews etc., but there are still the hard costs of design, posters, mail-outs, printing, newsletters, postage, radio and paper advertising, website development, publicist, etc.
3. Finally, it is time to upgrade our recording studio software and hardware, at a cost of approximately $15,000. It was state-of-the-art in 2002, but as you know, a decade in the digital age is a century in the previous age, and I think we've squeezed every drop of music we can out of our current gear.
So, in the next month or so, I'm hoping to raise as much of the $65,000 budget as I can. This will not only enable me to pursue the next project, but will also prepare us, equipment-wise, for recording into the next decade or so.
If you would like to be part of this 25th Anniversary Celebration (of my pilgrimage), as well as help equip me for the next leg of this ministry, you can donate online, by phone or by mail. All donations are tax receiptable. One-time gifts are gratefully received, but if you would like to continue your support into the future, pre-authorized monthly gifts are a much appreciated option as well. If you have any questions about donations, please call our office and speak to Faye at 1-800-854-3499.
Thank you so much for your prayers and your trust. It has been such a deep and rewarding pleasure to serve you all with the gifts God has given me.
General Support Fund
Thank you for considering financially supporting Steve's ministry of "encouraging Christian faith and thoughtful living through performance, story and song. Donations are vital and ensure the development of new music, concerts and faith inspired works of art. Your gift is welcome and will help tremendously.
If you have any questions or need additional information regarding donations for Steve Bell, please call Faye Hall at 1-800-854-3499.
"Read More" about this need.
Special Projects Fund
Your support and gifts are paramount in the support of projects that fall outside the normal realm of CD production and concerts. From time to time, we will post special needs items or trips that are important in Steve's development as a writer, minister and musician as well as technical needs to keep our office running smoothly and our recording studio state of the art.