Support
New Worship Conference and Book to be Developed in 2015
(Steve's year-end letter for 2014)
Hello All!
Let me start by thanking you for such a productive year. 2014 saw the release of my 4-disc set Pilgrimage, my second e-book on the spirituality of the Christian calendar year, Lent | PilgrimYear, as well as the release of Refuge 31 Film's feature  documentary, Burning Ember: The Steve Bell Journey.
Alongside all this, I've been able to put in a healthy year of concerts: close to 100 public events spanning both Canada and the U.S. from coast to coast.
It's too soon to know if Pilgrimage will pick up any awards (the JUNO announcement is in mid-February), but the documentary has already been selected for several film festivals and recently garnered two awards of merit at an international indie-film festival.
These kinds of projects are simply impossible without wider community support, so I'm very grateful for you all.
What's Next for 2015?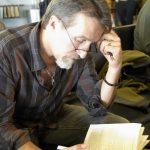 I'm hoping to develop a day-long conference—and book—for church communities, centered around the spirituality of the Christian calendar year.
The ancient liturgical practices of the church have fascinated me since I was a young boy. Later in life, as I've grown to understand and participate in the yearly cycles of feasts, fasts and remembrances, I've found the traditions to be deeply nourishing to my own faith, and consequently to the songs and stories that flow from it.
Over the last year, I've been quietly writing and releasing a series of reflections called PilgrimYear, on an e-book platform called Snippet. When completed, the series will have nine collections of reflections that take the reader through Advent, Christmastide and Epiphany, to Lent, Holy Week and Eastertide. There will also be a few collections reflecting on the longer, lesser-celebrated season called Ordinarytide that spans from the end of Easter to the beginning of Advent.
What I would like to do now, is gather those collections of reflections into a complete hard-cover book, as well as develop a day-long conference/retreat for churches and groups who would like to explore this with me.
It will take most of 2015 to develop the conference and materials to be ready for early 2016. So, of course, I'll continue to write songs and perform concerts as I always have. But I feel deeply that I have something more substantial to offer the life of the worshiping community that we know as the Body of Christ.
Your financial help over the next year will help me prepare for a new phase in my ministry that I hope will enrich and deepen the worship life of the church, in an age when people are seeking a greater rootedness to their spiritual lives.
It is an honour to partner with you in "encouraging Christian faith and thoughtful living through artful word and song."
– Steve Bell
CLICK HERE for the webpage for the new Pilgrim Year Day Conference and Concert…
To Donate, see upper right hand column.