Last week I flew to Calgary to participate in a fundraising concert for Haiti.
The concert was organized by Leroy Harder (event organizer for the Canadian Gospel Music Association) on less than a week's notice and brought in artists from all over western Canada including Carolyn Arends, Jon Bauer, Junkyard Poets, a small orchestra, choir and many more.  It was a wonderful event, at Calgary's Centre Street Church, attended by about 2000 people which raised over $115,000 in the collection. With government matching, that's almost a quarter of a million dollars unleashed to help Haiti.
The money will reach Haiti through Samaritan's Purse, who were on hand with grateful words for the concert attendees. Also on hand was Karen Taylor, my friend from Compassion Canada, with several others of a team who had landed in Haiti just one hour before the quake.  The team was headed for Hotel Montana, but were briefly delayed at the airport which meant they were ten minutes away from the hotel when it collapsed, killing most of its inhabitants.  Theirs was a moving story for sure.  We were so glad to see them home and safe.  The reality for most of those in Haiti is unthinkable.
a
This week there are two concerts for Haiti in Ontario involving Signpost Artists (and friends of Signpost) I wanted to alert you to:
a
Jay Calder (guitar wunder-lad) will be joined by Kelita, Terry Posthumus, Oceanic Air, Paulis Sanchez and several others on Sunday, January 31 for the Many Hands – One Voice! concert: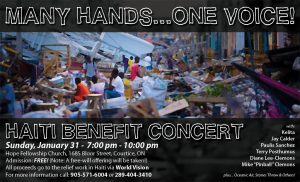 MANY HANDS – ONE VOICE!
Haiti Benefit Concert
Sunday, January 31,2010
7pm – 10pm
1685 Bloor St.
Hope Fellowship Church, Courtice,ON
FREE ADMISSION (Free-will offering to World Vision)
a
Also this Sunday, Jan. 31:
a

a
a
Our own Jacob Moon will be joining with Feist, Stephen Fearing, Luke Doucet and many more to sing for Haiti at Hamilton Place's Great Hall Theatre. Tickets are $25 and  available at mailto:ticketmaster.ca
BTW – Jacob's newly released CD Maybe Sunshine, is truly wonderful – one which gets a lot of play on my ipod these days.
Here is a terrific song Jacob wrote after he and his wife Ali met Sara, a child  they sponsor through Compassion Canada.  I thought (given the context of the last week and this post) it was a fitting way to sign off (click song title to listen):
[wpaudio url="https://stevebell.com/wp-content/uploads/01-Sara.mp3″ text="Jacob Moon – Sara" dl="0″]
a

a
Jacob's song "Sara" is from his newest release Maybe Sunshine available HERE
a
a
Read: Debt, Dictators and Disasters – A Brief History of Haiti

Read: Helping Haiti



If this blog has been meaningful, please consider a gift to further Steve's work.