Steve Bell with the Toronto Symphony Orchestra at Massey Hall, Dec. 3/ll
Less than one month away! 
View Video On YouTube
(see concert setlist below)
 THE PLACE AND CAST: The Toronto Symphony is considered one of the top ten orchestras in the world, and Massey Hall is Canada's premier legacy concert hall.  In addition, Rei Hotota, assistant conductor for the Dallas Symphony will be conducting the concert.  Rei has conducted over twenty symphony concerts for me already and her elegant musicianship and presence lend a grace to the event that is quite memorable. Add in my piano player and orchestrator Mike Janzen along with bassist Gilles Fournier and drummer Daniel Roy and we have the makings of a great evening.
THE REASON: This concert is being presented by The Hope Exchange which is a charity focused on supporting the Hope Giver; those who have chosen a "vocation of service to others with a desire for healing, sustaining, restoring and sharing compassion." My dear friend Tim Huff is heading up this new endeavor. He is also an award-winning author whose beautifully written stories have deeply impacted me time and again.  The concert itself will feature  Tim and some of his stories woven into the fabric of the evening.  You are going to love this guy.
THE HOSTESS: CTV's Valerie Pringle will be hosting the evening.
I KNOW!! (I've had a mild crush on Valerie for years. I haven't met her yet but I'm already practicing my composure and cool.)
THE INTEREST:  People are coming from all over North America: Seattle, Chicago, Winnipeg, Los Angeles, San Francisco, Philadelphia, North Carolina to name a few.   Plus my mom and dad are coming!
THE MISSION: When I first started writing and performing music, it never once occurred to me that I'd get this sort of opportunity.  The songs God has inspired in me have served well to encourage and inspire hope and faith in others for a couple of decades now. I've been blessed beyond measure.
Someone once said that our personal gifts and abilities are God's unique way of loving the world through us. This opportunity to perform my music –  in this setting, with these folks –  is about as fulfilling for me as fulfilling can possibly be. 
I do hope you will join me  and the Toronto Symphony Orchestra – Massey Hall, December 3/11.
For tickets call: 1.416.872.4255

If you would like to sponsor someone who might otherwise not be able to attend the evening, please visit my sponsor page at  www.hopeexchange.ca/overtureofhope 
To watch (and share)  a great video promo for the  concert click HERE…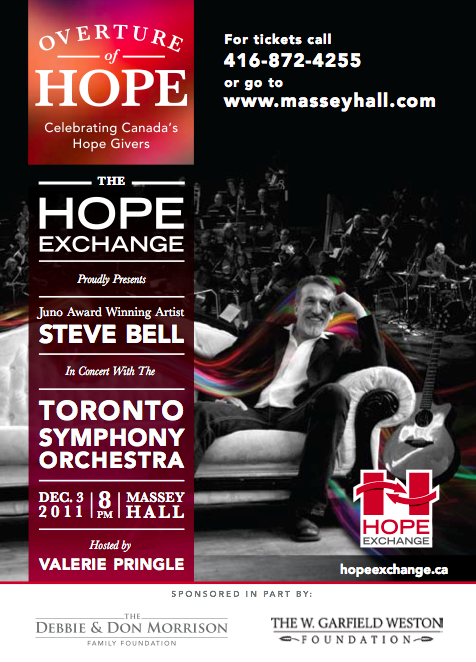 ..working concert set-list

 

Set 1
Burning Ember
Here by the Water
Dark Night
Waiting for Aidan
Peace Be Unto You
Bleak Midwinter
Wellspring/ Holy Lord

Set 2
Lord of the Starfields

Magnificat
This is Love
Chim Chim Cheree – Mike Janzen

Even So
Moon Over Birkenau

Deep Calls to Deep
If this blog has been meaningful, please consider a gift to further Steve's work.