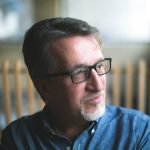 I hope you don't mind a bit of shameless self-promotion, but my latest album, Where The Good Way Lies, has recently enjoyed some noteworthy affirmation, that being a great review in Faith Today magazine, and 10 award nominations for the Covenant Awards (Canadian Gospel Music Awards). 
—SB
---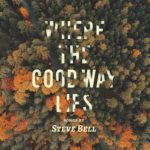 REVIEW | Faith Today Magazine
November/December 2017
 
Where The Good Way Lies
By Steve Bell
Signpost Music, 2016
EARLIER THIS YEAR at the Break Forth Conference in Edmonton, I had the chance to take in the thought-provoking session "How Art and Culture Affect the Church" with Winnipeg singer-songwriter Steve Bell. He shared his passion for justice and truth.
That passion is the lifeblood of his 20th album where he not only showcases his musicianship on ukulele, mandolin, guitar and trumpet, but also offers a lyrical depth that continues to grow—astonishing for such a veteran.
This folk/roots album offers 13 songs, two of which are instrumentals and all backed by a plethora of instruments including accordion, saxophone, organ, dobro, French horn, harmonica and upright bass, just to name a few.
Producers Bell, longtime partner Dave Zeglinski and Murray Pulver decided to go old school and record using analogue tape machines, and the result is a warm organic feast for the senses.
Highlights include the title track based on Jeremiah 6:16 that features a traditional Native chant by Co-Co Ray Stevenson and spoken word from Winnipeg rapper Fresh I.E., the cover of Bruce Cockburn's "Love Song," the simple yet poignant "Love Is Our Way," and "Ash Wednesday" where Steve's poetic verses are featured as he sings, "Love bruises to the bone / When it falls among the thorny paths and fields of stone / If this is all we've known / What makes the body ache to land a better home."
The many fans of one of Canada's most prominent Christian musicians will in no way be disappointed.
– KEVIN POLLARD
(see customer reviews of "Where the Good Way Lies"  HERE… )
---
 
Steve Bell's 20th CD, Where the Good Way Lies, receives 10 Covenant Award Nominations
Winners to be announced at the 39th Covenant Award Ceremonies in Edmonton, January 27/18
FOLK SONG OF THE YEAR: A Better Resurrection – Lyrics by Christina Rossetti, Music by Steve Bell
INSPIRATIONAL SONG OF THE YEAR: Wait Alone in Stillness – Steve Bell
SEASONAL SONG OF THE YEAR: Let Beauty Awake – Music by Steve Bell, Lyrics by Robert Louis Stevenson, Steve Bell, NT Wright
COLLABORATION OF THE YEAR: Where the Good Way Lies – Steve Bell, Gerry St. Cyr, Fresh IE, Co-Co Ray Stevenson
RECORDED SONG OF THE YEAR: Where the Good Way Lies – Steve Bell, Gerry St. Cyr, Fresh IE, Co-Co Ray Stevenson
SONG OF THE YEAR: Love Is Our Way – Music by Steve Bell, Lyrics by Steve Bell and David Widdicombe
ALBUM OF THE YEAR
FOLK ALBUM OF THE YEAR
ARTIST OF YEAR
MALE VOCALIST OF THE YEAR
---

STEVE BELL CD SALE
If you haven't purchased the new album yet, take advantage of the Christmas sale on offer until December 25 where all Steve's CDs are available for $10 each.
Go to the store at stevebell.com/store, make your selections and at check-out use the Promotion Code: 12345678910. The sale price will be applied.