STEVE'S SPRING/SUMMER 2023 UPDATE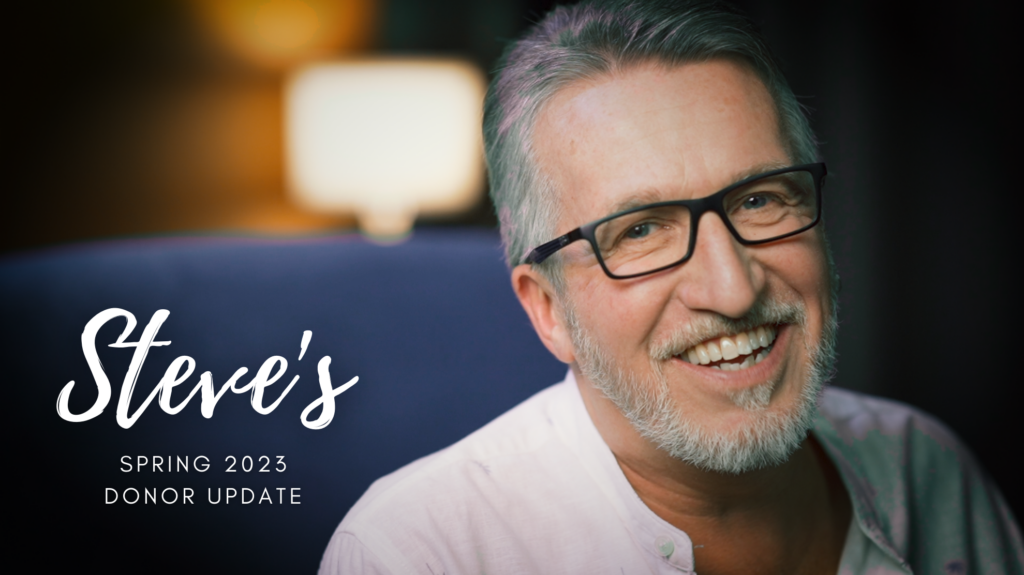 "…make us wise and faithful stewards of your gifts, that we may serve the common good, maintain the fabric of our world, and seek that justice where all may share the good things you pour upon us." (Collect from the Book of Common Prayer)
Greetings friends and supporters!
This is a brief update to let you know we're still here and happily labouring to do the work God has set before us. And we do this gratefully… with your support and with your prayers.
Winter/Spring 2023:
This past winter/spring season has been busy with live concerts, conferences, and retreats. Live events are still what I enjoy the most about my work, and I couldn't be more thrilled to be back on stage after the long lockdown. We've also released several new online events (The Loft Concert Series, For the Journey this Week, etc). Work continues on my online guitar masterclass series, which will launch this fall.
And we've finally launched Way Stations Podcast, which gives me the opportunity to share with you some of the wonderful people (authors, artists, activists, etc.) I am fortunate to meet on my journeys. The first three episodes featured environmental theologian Norm Wirzba, Indigenous activist and theologian Randy Woodley, and author/historian (specializing in early evangelicalism) Bruce Hindmarsh. More to come…
New Website:
Over the winter we took some time to do a long overdue refresh of my website with a whole new look and improved navigation so that folks can better find what they're looking for. Overhauling websites is tedious work, and we're grateful to Jay Johnson (my otherwise videographer) for patiently overseeing and directing this enormous task. You can check that out at www.stevebell.com.
Sudden Loss:
Tragedy struck our Signpost family this winter when Faye Hall's husband, Darrell, was diagnosed with an aggressive cancer that took his life in only a matter of months. Faye has faithfully worked with me in administration for over 16 years and it breaks our heart to see her suffer such a terrible loss. Your prayers for Faye over the coming year would be much appreciated.
New Album in the Works:
We're taking some down time this summer to be with family and rest up a bit. But also, I'll be working on song writing to complete a new album which I hope to start recording in the early new year—aiming for a Fall 2024 release. The working title of the album is "Glad Surprise" which is taken from a Howard Thurman quote and reflects the fact that several of the songs lean into Easter/resurrection themes. I've got over half the songs ready to go and am quite pleased with what's on the table so far. I'll keep you informed as things progress.
Fall Concerts:
This coming fall will be full of travels and concerts (watch website later in summer for the fall concert schedule). We're keeping things simple with only solo concerts for a while yet. Attendance hasn't yet sprung back to pre-covid numbers, so we're a little shy about doing more costly events such as band tours or symphony concerts. Perhaps with the release of a new album in 2024 we can plan some special events.
Coveted Prayers and Support:
Please continue to keep us in your prayers. It takes a fast-pivoting, creative team of folks to keep all these balls in the air in this current environment. I'm grateful for my deep-listening board, my 30-year ministry partner Dave Zeglinski, my long-time administrative assistants Faye Hall and Amy Knight, and my video and online media producer Jason Johnson. It's a lovely, skilled, and dedicated team.
Of course, your donations are needed and very much appreciated. Please keep us in mind as you discern your various investments in Kingdom work.
Peace friends,
Steve Bell
To Donate
All donations for Steve Bell are processed by and receipts issued by IncarNATION Ministries a registered Canadian charity No. 88728 3208 RR0001.
Mail Cheques
Please make all cheques payable to Incarnation Ministries (memo line – Steve Bell) and send to:
Incarnation Ministries
Box 16, Station L
Winnipeg MB
R3H 0Z4
To enable a monthly chequing debit, mail or email a voided cheque to the above address or email to faye@stevebell.com.
Online Donations
One Time Donations (Canada)
Monthly Donations (Canada)
US Donations
If you are already giving monthly, please consider increasing the amount of your donation. Click the button and let us know how much you would like to increase your donation.
To make a custom donation by phone, please call Faye Hall at:
E-Transfers Now Accepted (Canadians only)
Send to: Faye@stevebell.com
In the "Message" area for the transfer, please state that the amount is meant for Incarnation Ministries, and leave your name, address and phone number so that we can send you a tax receipt.
In accordance with Canadian charitable regulations, Incarnation Ministries reminds each donor to Incarnation Ministries that while she or he has requested that Incarnation Ministries apply her or his gift to the work of Steve Bell's ministry, Incarnation Ministries is required by law to have complete discretion on how it uses its resources and will not return the gift to the donor even if it does not use the gift in the manner the donor requests. Historically, Incarnation Ministries has consistently since its inception in 2003 in Canada has directed 100% of all gifts (other than from its principal benefactor, who pays for all administration costs) to the artists, theologians and projects chosen by Incarnation Ministries.