Spring 2018 Audio Newsletter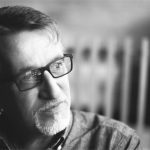 December, 2017
Dear Friends and Supporters,
It's the time of year for me to reach out and ask for your support of my ministry, reminding you that I'm still here, still doing what I've always done, and still needing assistance from the wider community. Indeed, as recorded music continues to lose its commercial value, artists like myself increasingly rely on patronage to keep producing meaningful songs, concert events, and social engagements that give public witness to the Christian faith we profess.
DISCERNING THE FUTURE
My ministry seems to be deepening somewhat:
Increasingly I'm being invited onto Christian college campuses to sing and speak into the lives of students in the early stages of their adult spiritual formation.
I'm more and more being asked to speak (key-note) at conferences and to give day-retreats to churches which allow me to explore with others, in greater depth, the faith which animates and sustains me.
There is a growing interest in my writing (blogs, magazine articles, books), which gives me the opportunity to unpack the experiences, insights, spiritual traditions and practices that lie beneath the songs I write.
In addition, given the inevitable decline of the CD, my team and I are spending considerable energy looking into new models for distributing music. For my music to have continuing impact, we must begin now to think creatively about alternative approaches to music distribution. There are some very fine folks helping us think this through which may result in the following:
A regular podcast, which would allow me to get my music out to a broader audience. This recommendation comes from a group of younger adults who suggested that the stories behind my songs are what make the music relevant to their generation. Podcasting makes deeper engagement with the songs possible.
A Steve Bell app or website featuring the complete catalogue of my music arranged according to various playlists (original albums, prayers, psalms, liturgical seasons, worship, grief and loss, instrumentals, etc.).
Of course, these are to complement the work I've always done as a performing singer-songwriter, which I still dearly love and feel called to do.
WOULD YOU WALK WITH ME?
All this is to say that I need your help as much now as ever. Might you consider a year-end donation to enable the continued health and growth of this ministry? All donations are tax receiptable and go directly toward the supports that allow me to continue my work and develop means to reach deeper into the surrounding culture for the cause of Christ and all that God loves.
Please remember me and these various projects in your prayers as well. The more fragmented our society becomes, the more we need points of shared meaning and experience to remind us of what is most true of the human person: that we are made in the image of a divine communion of Love, to which the best of art directs us.
Peace to you and yours,
Steve Bell
TO DONATE:
MAIL CHEQUES TO: Incarnation Ministries: Box 16, Station L, Winnipeg MB R3H 0Z4.
CREDIT CARDS: Process online or call Faye at 1-800-854-3499 or 204-774-3715.