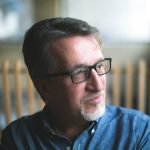 SPRING/SUMMER 2019 Newsletter from Steve Bell
Dear Friends and Supporters,
I have been more than pleased to spend the last 30 years creating recorded and live events which restore faith, nurture the soul, and bring comfort, healing and joy to audiences world-over. With my recent foray into book-writing and retreat-leading, I feel like I am only beginning to harvest the fruit of decades of "a long obedience in the same direction." In an age of increasing anxiety, social polarization, spiritual malaise and global crisis, I feel more than ever that I have something good to offer. 
Seismic changes in the music industry, however, alongside the changing user-habits of music lovers, have made music-making an increasingly difficult endeavour to sustain financially. At the same time, the music itself has never had more listeners, while those very listeners continue to confess how vital music—especially spiritual music—is to their own flourishing.  
This year I must necessarily pull back from creating content in order to shore up the finances needed to move forward. I'm 58 years old and hope to have a good decade or more of meaningful output; now is the time to set the stage for what is to come. 
I'm looking for a dedicated group of folks to join my Sustainer's Circle:
200 people who will commit to giving $20 per month
50 people who will commit to giving $50 per month
50 people who will commit to giving $100 per month
Might you consider becoming a partner in one of these categories?
I trust you know that any money is used for far more than personal income; resources for this kind of work are needed to cover office, staff, travel, production costs, etc. I have a good advisory board to oversee the responsible use of these funds, and I am confident that my calling and vocation are maturing in accordance with my years.
As one of my songs states, "There is good work to do." I surely could use your partnership to continue this work to which I've been called. There are already new songs to be recorded and I have begun the first stages of a new book to complement the retreats I've been offering recently.
Please see the enclosed insert for information on how you can help. All donations are tax deductible through our non-profit partner, Incarnation Ministries, and you can cancel at any time.
Peace to you and yours,
Steve
PS — Many of you know that a wrist injury was threatening the future of my guitar playing. I have recently begun a new medical therapy (platelet-rich plasma injections) which is helping immensely and promises to ward off a surgery that would have severely reduced mobility. I am greatly encouraged by the results so far. Thank you for your prayers.