SPECIAL REPORT – NAVIGATING COVID-19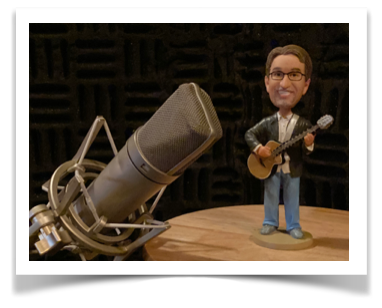 Dear friends and supporters,
I just wanted to send out a quick note to let you know how I and the ministry are faring these days.
Only a few weeks ago, while on the road in Alberta, I started to get the feeling that we may need to cancel a concert or two…
Wow! How quickly things have changed. Now I'm hoping we can be back to concerts before Christmas. I guess we'll see.
 However, this note is just to let you know that we are doing ok. Last year my advisory board encouraged me to work a little harder at developing my donor base in response to diminishing retail revenues of CDs. Little did we know what was coming. But what a difference it makes now.
I just got off the phone with my manager, Dave, and a member of my advisory board, Ren Martens. We went over various scenarios and took a line-by-line gander at our financials, and the news is somewhat encouraging. 
This ministry currently has no long term debt, and because of last year's efforts we actually have a little bit of a cushion to draw upon for the next few months. Between that, your support, some recently announced government assistance for small businesses, and a few austerity measures, we should be able to manage into the fall should things be shut down that long.
So, this is just to thank you all for your support. It means so much, and I believe the ministry your support enables, is more vital now than ever.
Meanwhile, I am currently working on a new album of songs that'll be ready by September. As well, I've begun to work on putting up a variety of videos on-line (short, in-house concerts and single songs) to encourage individuals and congregations over the next months.
If you want to follow my weekly live-streamed concerts, you can do so via my artist's Facebook page @stevebellmusic.
Look for Steve Bell – The Loft Sessions (formerly Live from the Vault) on Fridays at 12:15 CDT.  We post the concerts to YouTube as well which you can watch anytime. Simply type Steve Bell into YouTube's search feature and you'll find me.
Finally, I have received many requests for access to my on-line catalogue of songs and videos for use in virtual ministries and gatherings (Sunday services, college convocations, board meetings, devotionals, reflections, etc.) Watch for announcements of a new page on my website called The Storehouse where you'll find an ever growing site of songs and videos you can use where needed (royalty-free).
That's it for now. I'll let you know if things change for us, but know that for now we are able to continue to do the work we've been called to do even if the familiar mediums have changed.
I've included a message from my advisory board as well. These are folks that have paid particular attention to my ministry over the years and have offered very sound advice which pays off in times like these.
I hope you know I do pray for you all. God knows we're more vitally connected than we have yet to appreciate. But perhaps we're learning.
Peace Friends,
Steve Bell
Message from the Board:
Dear Supporters of Steve Bell,
You may know that Steve has assembled a Board of Advisors to guide him and his Signpost partner Dave Zeglinski from a strategic and long term planning perspective.
On behalf of the board, I want to thank each of you for your support of Steve's ministry, and for your partnership in the impact that it has had on so many individuals in the global faith community over 25 plus years.
The recent developments surrounding the COVID19 pandemic have impacted us all, and shaken the very foundations of our lives at virtually every level.  Our faith is buoying us in the midst of these challenges, and provides the anchor that keeps these things in perspective clearly.  For many of us, Steve's music and thoughtful perspective is a big part of that sense of calm.
While the recording of his upcoming album has proceeded on schedule in the past month, a number of engagements and the touring schedule for the remainder of the year are in doubt, depending on the timing of containment of the virus, and development of a vaccine.
In the meantime, please be assured all efforts have been made, and are being made, to steward Steve and his ministry through these uncertain times, including paring down expenses where possible, and applying revenues and donations sparingly to anticipate all possible scenarios as we look ahead to the fall touring season.
Thanks to each of you and your support; the ministry is viable, and we are confident as a board that Steve and Signpost will continue to be vibrant agents and purveyors of "The Good Way."  His gifts of spiritual guidance and insight, music, poetry, and support to the community as a respected thought leader, are needed as much now as ever. 
The community that he serves and who support his work remains his focus, and you can expect even more creative and innovative ways for him to reach out in the coming weeks and months.
We remain fully engaged as supporters and advisors to Steve and Dave;  we will be there for them every step of the way–and we know each of you will be, as well.
Best Regards,
Reynold Martens (Winnipeg)
On behalf of the Advisory Board, Jim Richardson (San Francisco), Uli Chi (Seattle) and David Jennings (Vancouver).