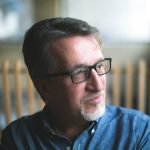 FALL WINTER 2019 UPDATE from Steve Bell
Dear Friends and Supporters,
'Tis the season, once again, where it is important for me to reach out to those who value my ministry, and remind you that my work is utterly reliant on the financial support of folks like yourself. Many of you are now making decisions about were to put your year-end donations and I pray you'll keep me in mind as you do.
2019:
Last year was a bit of a milestone for me, as it saw the release of my seven-volume book series, Pilgrim Year. Rather surprisingly, Pilgrim Year is well on its way to becoming a Canadian national best-seller. Having received enthusiastic reviews, it also won second place for Book Series of the Year. The awards were announced last spring in St. Petersburg, Florida by the Catholic Press Association of the United States and Canada.
In addition to my regular spate of concerts and conferences, 2019 gave me the opportunity to offer my For the Journey Retreat to many communities across the continent. I also co-taught a course called Five Traditions of Prayer at Regent College with Dr. Bruce Hindmarsh. And I was privileged to perform two symphony concerts, one with the Winnipeg Symphony and the other in California with the Fresno Philharmonic. I so wish you all could take in one of these concerts… there's a certain experience of transcendent sublimity that only a symphony can provide. 
This year also saw the death of my father, who took his last breath on July 31st. For those of you who have experienced this kind of loss, you'll understand how wrenching it is. There are no words really, except to say that my father was a loving and wise man, and the pain of his loss is due to that goodness. 
I've since written a song for my father called "In Memoriam," which I've posted online as part of a three-song Christmas gift to you. See www.stevebell.com/merrychristmas
2020:
The coming year promises to be fruitful as well. I'll begin recording my next album in February, with the intention to release it in the fall. This will be my 22nd project, and I am as enthusiastic as I've ever been about the new material. 
Another highlight is that I've been asked to return to Regent College to teach a summer course called Seasons of Renewal with my friend, English poet Malcolm Guite. Malcolm is amazing. You may want to look into this course, which runs from July 20-24th.
Merry Christmas!
As mentioned, I've posted preview demos of three new songs for you to listen to online. In the "olden" days, I would have included a gift CD with this letter. But since CD's have gone the way of the Dodo bird, you'll find my Christmas gift to you online at www.stevebell.com/merrychristmas. Please receive it as my thank you for your love and support.
Support:
Once again, please consider me in your year-end giving. Changes in the music industry (particularly the rise of music streaming) have ended major revenue sources for artists like myself, and the costs of this work far exceed what can be recouped by concert revenues alone. Unless communities support their artists, we simply can't continue.
If you are an occasional giver, perhaps you can commit to monthly giving. If you are a monthly donor, perhaps you can increase your monthly support. Additional one time year-end gifts are most welcome and extremely helpful. All donations are, of course, tax receiptable.
Peace friends! It is an honour to serve God, and God's beloved in this way.
Steve Bell