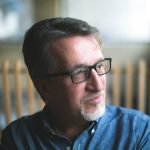 WINTER 2018 Audio Newsletter from Steve Bell
November, 2018
Dear Friends and Supporters,
I'm currently in the air over Saskatchewan, returning home after giving my "For the Journey" retreat in Edmonton over the weekend (see: stevebell.com/retreats). This is the fifth such retreat I've led this year, and from the enthusiastic response of those who have attended I suspect leading retreats is to be a feature of my work over the coming years. This new development in my ministry flows from a recent re-visioning of my personal mission statement: to refresh Christian faith and spiritual tradition for the weary and the wary." 
I will always do concerts and recordings. I absolutely love song writing and sharing those efforts with an audience. I love how songs, especially devotional songs, become part of the landscape of people's lives to nourish faith and spiritual ardour in those who are open to such things. I love how songs can heal wounds and offer "strength for today and bright hope for tomorrow." Retreats, however, allow me to take more time and share the theological convictions and spiritual practices that have been so formational for me over the years.
The last few months have also seen the publication and release of Pilgrim Year, my seven-volume book series on the spirituality of the Christian calendar year. Last February, Novalis offered to publish a series of reflections I had previously released online. Book publication meant major rewriting and editing, and so I rented a small office in downtown Winnipeg and squirrelled away for three months to get the work done. I couldn't be more pleased with the results. 
The seven slender books‑which include Advent, Christmas, Epiphany, Lent, Holy Week, Easter and Ordinary Time—take the reader on a journey through a rich and ancient tradition of spiritual reflection on the various fasts, feasts and saint's days that populate the year. To quote Joan Chittister, this cyclical journey "softens the ground of our hearts, [and] nourishes the soil of our lives until the seed of the word of God begins to grow in us, comes to fruit in us."
Monetizing my work has always been, and always will, be a challenge. Trends and technologies change (as we've seen with the recent demise of the CD), and one must be nimble to adapt to those challenges. Your support over the years has meant that I have been able to stay the course and remain committed to a "long obedience in the same direction." What that means practically is that my work has widened and deepened in ways I could never have predicted in the early years. Thank you for walking with me.
As you begin to think about where your year-end donations might go, please consider a tax receipt-able gift that will help me continue to respond to the needs of the world with the particular gifts I've been given. Roughly one half of my annual budget comes from donations, so your support is very significant to my work. 
Thank you so much! I'm looking forward to the next year which will likely include recording the next batch of songs that have been emerging.  
Peace friends. May this Advent season be a rich preparation for the celebration of the birth of Christ and all that flows from that miracle and mystery.
Steve Bell