Gabriel knelt and not a feather stirred
The Word Himself was waiting on her word.

Malcolm Guite, Sounding the Seasons, 31.
The Feast of the Annunciation, celebrated in March 25th, is the day we commemorate the Angel Gabriel announcing to a startled Mary that she would conceive the Word of God in her womb and bear it forth for the sake of the world. This day has appropriately been called the highwater point of the history of salvation, because without today there is "no cross and resurrection; without today, no Church or sacraments; without today, no eternal life on high with God."

The Feast of the Annunciation, situated midway through Lent, seems to be a startling interruption of Lenten focus.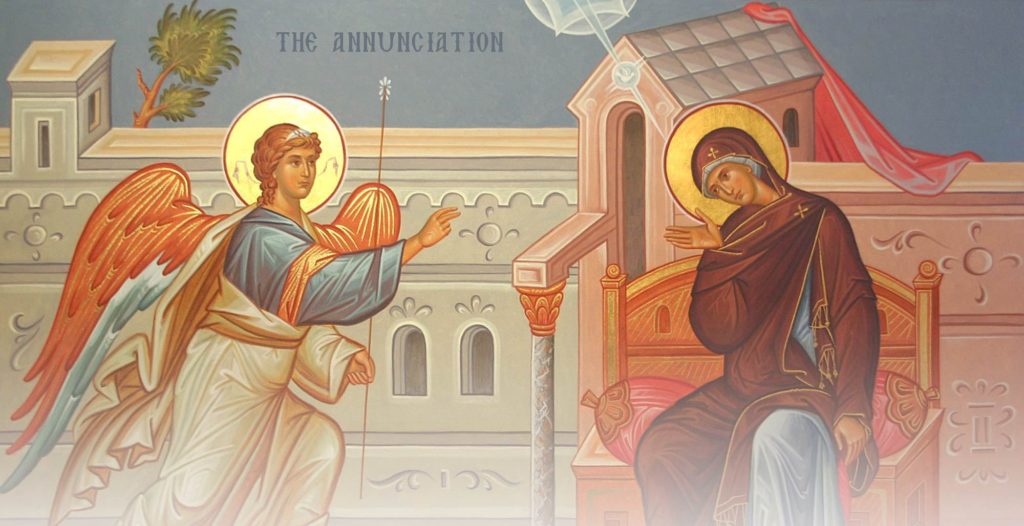 We typically think of Mary, and anything to do with the birth narrative of Jesus, as belonging to the seasons of Advent, Christmas and Epiphany. However, echoes of Lent/Easter reverberate through the Christmas narrative just as echoes of Christmas sound through Lent. The story of salvation is one story where each part penetrates and deepens the meaning of the other. Further, if Lent is in part about turning our attention back to God, then this story of Mary's response to the Angel Gabriel's invitation provides the epitome of openness, discernment and response.

Also, if we let time do its proper work, it seems appropriate that as Mary would have conceived Jesus nine months before his birth, so too for us. Now is the liturgical time to begin preparing for his coming into our lives. Indeed, he is already here, but new life always has an invisible gestation that begins well before its full flowering.

The Annunciation announces and inaugurates the Incarnation – God's loving condescension and radical solidarity with his Creation. It announces the profound goodness of flesh through which God is pleased to communicate God's own self. It baptizes material reality as the means of our redemption. In our own day, as world leaders bluster and rattle sabres, it reveals that salvation is not to be found in the high and mighty, but rather in the lowly and meek.

It is worth reading the story even if you think you know it. Imagine hearing it for the first time through the ears of an enchanted child:

In the sixth month the angel Gabriel was sent by God to a town in Galilee called Nazareth, to a virgin engaged to a man whose name was Joseph, of the house of David. The virgin's name was Mary. And he came to her and said, "Greetings, favoured one! The Lord is with you." But she was much perplexed by his words and pondered what sort of greeting this might be. The angel said to her, "Do not be afraid, Mary, for you have found favour with God. And now, you will conceive in your womb and bear a son, and you will name him Jesus. He will be great, and will be called the Son of the Most High, and the Lord God will give to him the throne of his ancestor David. He will reign over the house of Jacob forever, and of his kingdom there will be no end."

Mary said to the angel, "How can this be, since I am a virgin?"

The angel said to her, "The Holy Spirit will come upon you, and the power of the Most High will overshadow you; therefore the child to be born will be holy; he will be called Son of God. And now, your relative Elizabeth in her old age has also conceived a son; and this is the sixth month for her who was said to be barren. For nothing will be impossible with God." Then Mary said, "Here am I, the servant of the Lord; let it be with me according to your word." Then the angel departed from her. (Luke 1:26-38)

Here is the most intriguing and delicate of stories. A mighty warrior-angel of God approaches and gently interrupts an obscure teenage girl already well into her plans for her life. She, in her humility, is troubled by the angel's deference to her favoured status. She is perplexed by the announcement. But after the briefest explanation, she simply offers her open 'yes.' With that, eternity comes into time, God's future breaks in on our present, heaven and earth are wed, and nothing will ever be the same.

Poet Malcolm Guite beautifully captures this pregnant moment.
THE ANNUNCIATION

We see so little, stayed on surfaces,
We calculate the outsides of all things
Preoccupied with our own purposes
We miss the shimmer of the angels' wings,
They coruscate around us in their joy
A swirl of wheels and eyes and wings unfurled,
They guard the good we purpose to destroy,
A hidden blaze of glory in God's world.
But on this day a young girl stopped to see
With open eyes and heart. She heard the voice;
The promise of His glory yet to be
As time stood still for her to make a choice;
Gabriel knelt and not a feather stirred
The Word Himself was waiting on her word.

Malcolm Guite

This story has an added element that resonates deeply with me. It concerns Mary's cousin Elizabeth, who was elderly and barren, which in that era would have been an agony of the deepest sort. The angel announces that Elizabeth's barrenness has come to an end and that she too will have a child, adding, "for nothing is impossible for God."

If I may insert myself here, I do know something of what it is like to be barren. I grew up in a family and community of folks pregnant, as it were, with faith. My grandparents were missionaries in China, where my father and most of his ten siblings were born. As a child I heard countless stories of God's palpable presence in their lives and longed to know, in my being and history, what others around me seemed to know in theirs. I had faith in my head, but it was creedal, not personal, and I felt the pain of what felt like an interminable barrenness of experience.

The detailed story is too long for these pages, but in my early thirties, long after giving up hope for such an experience, I felt the overshadowing of the Holy Spirit. What was in part birthed in me then are the songs I'm now known for. Songs, I believe, given for the sake of the world. Songs which, in their own limited way, bear a future already present. This, audacious as it sounds, is the dignity of all… to participate uniquely and maternally in the joyful life of the world to come.
MAY IT BE DONE
music and lyrics by Steve Bell
From the dawning of the age
And the house that bears the name
Of the great "I Am"
Comes the promised righteous reign
To the one who waits
But how much longer can we bear the delay

May it be done as you have said
Plant your seed in me oh God
Not the seed of human life
But your ever-lasting word
For we are all just like the grass
And our glory's like the flower
But the grasses wither
And flowers fade
Yet your word, O Lord, it stands
Forever

How unsettling are these days
How completely floods the ache
Of an empty womb
But there's a promise to receive
And I expect to see
That you'll defend me if I dare
To believe

May it be done as you have said
Plant your seed in me oh God
Not the seed of human life
But your ever-lasting word
For we are all just like the grass
And our glory's like the flower
But the grasses wither
And flowers fade
Yet your word, O Lord, it stands
Forever


Appears on the 1995 CD release:  Steve Bell / The Feast of Seasons