Benefit Concert for Daryl Hiebert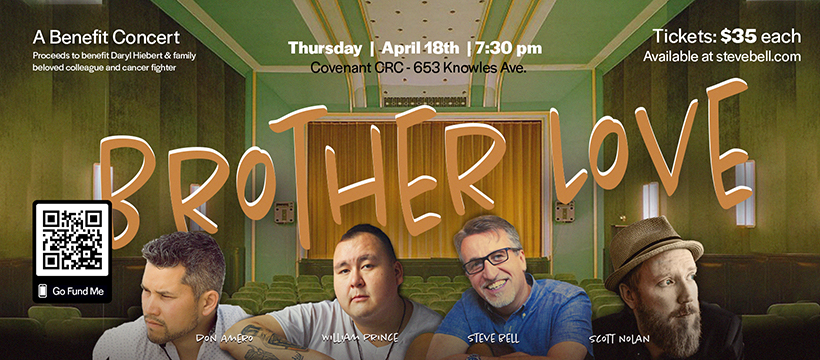 'Brother Love: An Evening of Song in Support of Daryl Hiebert' will take place on Thursday, April 18 at Covenant Christian Reformed Church (653 Knowles Ave.).
A Benefit Concert Featuring Steve Bell, Scott Nolan, William Prince & Don Amero
The benefit concert will celebrate Daryl's contributions to the local music scene and help raise some additional funds for the family. Daryl is a man who loves music more than anything in life (other than Corrie and his girls, obviously!). Over the past decade, he has worked with legendary Winnipeg recording artists such as Steve Bell, Scott Nolan, William Prince and Don Amero. He has designed album covers, built websites, overseen photo shoots, helped create music videos, provided strategic marketing support – and the four of them want to show their appreciation by holding an event in his honour.
Tickets cost $35 and can be purchased here, with 100% of the proceeds going directly to Daryl and Corrie. Daryl has a rare form of cancer, and has been unable to work to support his family (three young children).
Daryl Hiebert worked for several years at Signpost Music with Steve Bell as web designer. He is a valued friend.
Here is a link to the GoFundMe page with more details.
Scroll down to order tickets…
TICKETS WILL BE AVAILABLE AT THE DOOR. DOORS OPEN AT 7 PM.