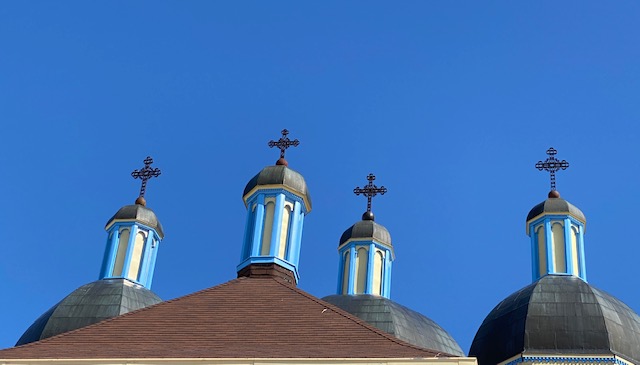 Each Sunday I'll try to post a song or two for those who are shut-in and shut out of church. – SB
Yesterday was such a lovely day here in Manitoba. The sun was out and water from the snow's melt was flowing everywhere. Nance and I decided to take a drive in the country and picked a destination suggested by the Manitoba 150 app which encourages and helps Manitobans to get to know our province better.
We drove past Birds Hill park, hung a right at the #12 Hwy and soon found ourselves at Cooks Creek which is the home of the magnificent Immaculate Conception Ukrainian Catholic Church which, though closed, was still a heartening sight to see.
It's a surprisingly majestic structure to find smack dab in the middle of our otherwise more pragmatic prairie culture. But it's not immodest. It's beautiful. There's a difference. And for some reason, my heart leapt when I saw below the nine celestial cupolas, several trumpeting angels, who's pure white stone caught the sun and set them ablaze against the day's clear sky.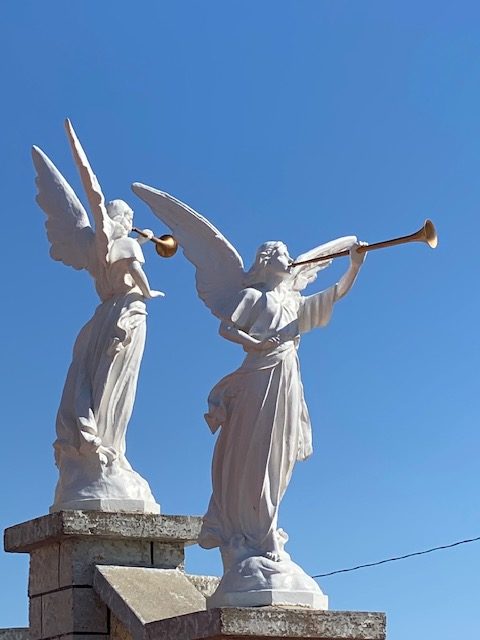 I'm not going to lie. My heart, like so many of yours, is heavy these days. There's a weighted blanket over everything it seems as every day brings dire warnings and news of friends and loved ones who are being dramatically affected by this global pandemic. And, of course, I worry about my business, my staff, I worry about my kids and their kids…I worry about my mom.
However, in this place, with the warming sun, the solemn silence of a shuttered society, and the visible expression of a rooted faith set in a monument like this, I heard the faint echo of the Sanctus: Holy! Holy! Holy! The whole earth is full of God's glory!  (Isaiah 6:3)
And my spirits lifted. I was able to sense the "dearest freshness deep down things" that our better poets and sages have written about through the ages, often in times much like these. And I was able to let my soul rest as Nance and I tooled around for the rest of the afternoon.
Thanks be to God.
Steve Bell
I wrote this song many years ago and there are several recorded versions. This one seemed to be the appropriate one for today. – SB