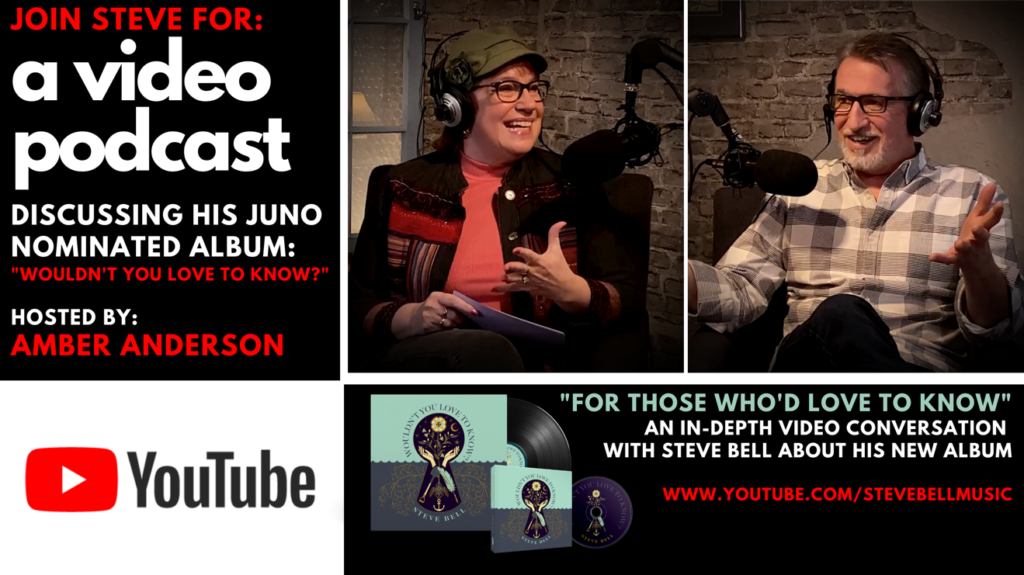 Earlier this year, I sat down with radio host Amber Anderson for an extended interview where we talked through and listened to every song from my recent album "Wouldn't You Love To Know." At the time, we released the interview on two one-hour video segments.
We have since chopped up the interview into shorter, song-by-song pieces for those who don't want to commit to the full length or a predetermined song order.
Amber was great to chat with, and it's a fun way to experience an artist's work (next to having them in your own home 🙂
The links below take you to YouTube, where the segments reside. Feel free to share. These days, unable to tour, it helps me get the songs out there. 🙂
-Steve
Wouldn't You Love To Know? Amber Anderson and Steve Bell in Conversation about Steve's Recent Album
Introdution (2:23)
Song: Wouldn't You Love To Know (11:29)
The Story Behind the Artwork (3:40)
Song: In Praise of Decay (10:05)
Song: God Bless the Poor (11:33)
Song: The Strange Blessing of Bearing (9:58)
Song: In Memoriam (14:21)
Song: A Heartbeat Away (12:20)
Song: Because I Languished For Love (10:16)
Song: The Home of Our God (13:07)
Song: Long Shadows (13:13)
Song: Because We Hunkered Down (11:13)
Song: Do Not Judge (6:45)
Song: Together (8:44)
Purchase CD/Vinyl at signpostmusic. com
Wouldn't You Love to Know is also available on most digital platforms.