My book series, Pilgrim Year (released fall 2018), which takes the reader on a reflective journey through the rich, spiritual tradition of the Christian calendar year, enjoyed a good first year out of the gate. Below is a review that just came out in Crux: Journal of Christian Thought and Opinion, published by Regent College. -SB
Order now, for yourself or for a friend, to get free shipping and delivery in time for Advent or Christmas: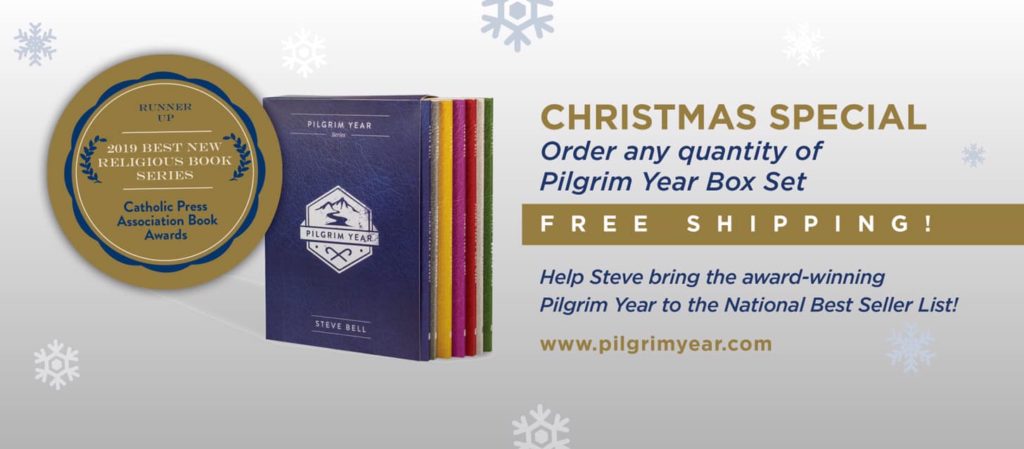 CRUX: A Journal of Christian Thought and Opinion (Fall, 2019)
REVIEW: Pilgrim Year by Steve Bell
Seven Booklet Series. NOVALIS 2018
Books include Advent, Christmas, Epiphany, Lent, Holy Week, Easter, Ordinarytime.
by Dr. Bruce Hindmarsh
author of The Spirit of Early Evangelicalism: True Religion in a Modern World (Oxford University Press, 2018)
reprinted with permission
Growing up in Winnipeg, I knew of Steve Bell long before his solo career, back when he was a prominent part of the local music scene as a member of the group, Elias, Schritt and Bell. We later worked together for the non-profit organization Youth for Christ, when Steve was leading young people in worship in juvenile detention centres. (Jailhouse Rock, literally.) I remember being more than a little surprised, though, by the sort of reading Steve was doing. It is not every singer-songwriter or youth worker you meet who reads John of the Cross or Hans Urs von Balthasar on the side. I quickly became aware that there were real depths to this Steve Bell.
As Steve's solo career has taken off, his spiritual and theological depth as a person has been reflected in his music. For example, more than twenty years ago, he recorded a version of John of the Cross's "Dark Night" poem that I still often play for my students in class when we read this 16th-century Spanish mystic. It captures perfectly in music and lyrics the heartbreaking beauty of John's call into "this happy night / That unites the lover and the loved." And there is so much more. Steve has some twenty albums now, and there is a scarlet thread that runs throughout all the words and music, touching deep places with thoughtfulness, honesty, and compassion. There have been awards and recognitions, of course, too many to count, and a documentary on his remarkable career, Burning Ember: The Steve Bell Journey. His skill as a musician has been recognized repeatedly by many of the greats. But, above all, it is this deep well of thoughtful devotion, fused as it is with exquisite artistry, that keeps me coming back to Steve's music. I am glad that he has been a good friend of Regent College, often bringing his gifts into our community and joining us in the classroom.
There are some musicians who, when you hear them in concert and they stop to talk between songs, well… you just wish they wouldn't. In contrast, Steve has often been described as a modern troubadour, whose music, story-telling, and teaching is a whole experience. Attending a concert leaves you entertained, for sure, but also somehow enlarged as a human being and encouraged spiritually. I have been reading about the early Franciscans who would travel as spiritual troubadours, singing their vernacular laude, and telling stories to ordinary folks in the marketplace. I think Steve would have been at home among these people.
The Pilgrim Year book series and accompanying CD is in many ways a natural culmination of Steve's musical and story-telling career. In seven beautifully designed booklets, Steve takes the reader thoughtfully through the church year. The itinerary across the terrain of the church seasons turns out to be, as the title suggests, a pilgrimage for the soul.
Steve wisely chose not to provide readings for every day of every season, but to provide an introduction for each booklet (like a frame for the painting), followed by eight to ten meditations on related themes or select "red-letter days" for that season. These are short reflections to linger over, not daily disciplines to be pounded out. There are booklets for Advent, Christmastide, Epiphany, Lent, Holy Week, Eastertide, and Ordinary Time. With their rich colours, the booklets seem to fan out like liturgical banners. Steve provides some teaching as he goes—taking up the role not so much of a scholar-expert as of a personal guide pointing out what he has seen and enjoyed on this journey from his own exploration. It is evident from the quotations he provides that Steve has continued to read deeply and widely, and he incorporates a rich selection of poetry. He makes especially good use of the sonnets written by his friend, the English priest and poet Malcolm Guite. And of course, the lyrics of Steve's own songs are woven into these reflections throughout. So, for example, for the feast of St. John the Evangelist (December 27), the meditation concludes with the lyrics of "This is Love." This is Steve's beautiful rendering of the seventeenth chapter of the Gospel of John. Although it reads well on the page, you really need to listen to the music for the full experience. Some of these songs are on the accompanying CD; all of them are on the Pilgrim Year website.
The flow of the whole series can be captured from Steve's review of the church year in his introduction to the last booklet, Ordinary Time. In Ordinary Time we are brought back to the presence of God in our daily lives. But how did we arrive here? Steve sums up the journey: "We began by passing through Advent, where we considered the mystery of the human person, whose dignity is to accept the invitation to participate in the drama of salvation as maternal spouse of God, co-operating to bring Christ's life to the world." Advent led to Christmas, "where we apprehended the humble incarnation of the cosmos' Creator and reflected on the astonishing humanity of Jesus." The pilgrimage continued with Epiphany: "We meditated on the miracles and events that revealed Jesus' divinity, and we came to understand the two natures (human and divine) of Christ, to whom our souls are wed." Next, we pressed on into the penitential season of Lent. "We pondered the devastation wrought by our infidelities and the myriad inordinate attachments and desires that draw our affections away from our Lord." Then the terrain changed again. "During Holy Week, we walked alongside Jesus to the cross, where he assumed and redeemed those devastations so that we might truly and freely love as well as know we are beloved of God." This came to climax at Easter with "a sustained reflection on the miracle of resurrection and the eternally evergreen life on offer through Christ's victory over death." And then finally the cycle was complete with Ordinary Time, a season in which "we come to realize the astonishing holiness of our daily lives as a consequence of all we have previously considered." He concludes with the ringing words of his version of the Sanctus, Benedictus: "Holy, Holy, Holy Lord / God of power and might / Heaven and earth of your glory are full / Hosanna! Hosanna! Hosanna in the highest!" I cannot even read those words without hearing in my head Steve's voice in a rushing crescendo of joyful praise. With this, the Pilgrim Year is finished, or, rather, we are ready to begin it all again.
I cannot commend this series warmly enough, whether for one season of the church year or for them all. Readers of CRUX should all know about Steve's music, but for those that do not, this series is a great introduction.